My pictures

Here a small collection of Pictures. Some are old,
some are quite new. Hope my comments will help.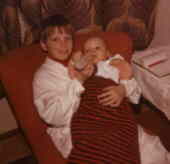 Me, when I was about ten years old,
feeding my baby brother who was born
in 1979.
We are nearly nine years apart.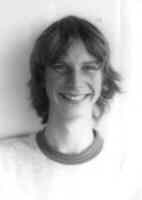 Picture when I was about 15 years old.
This photo was taken in art's class at
shool. I was supposed to draw myself
according to this picture .
I never managed ....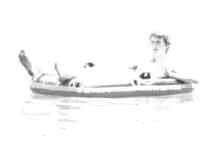 Beutifull picture : Me in a rubberboat.
Can't really see anything, but I like
this picture.

A very good frined of mine had to test his
new Videoprinter. I was sort of bored ..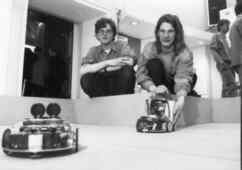 Science contest 'Jugend forscht'
Together with my friend Stefan I win
2nd price in our state with our project :
independent Robot System on base 68HC11.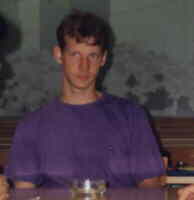 Attending a boring meeting.
How come I forgot what it was about ..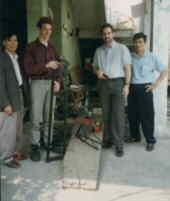 A german minister visits our production
place in Hanoi - Vietnam. This is where
the first recumbent-bikes were made.
One of these bikes went all across the US,
from eastcoast to westcoast.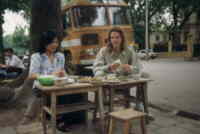 Having lunch on the street in Hanoi.
Lucky the Bus did not hit me ...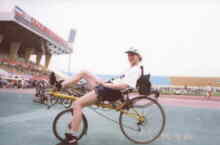 I took part in a bicycle race in
Chang Hwa - Taiwan. Quite succesfull,
and as usual people were stearing
at the bike !

On the sasandra river in Ivory Coast.
After a long day we found a camping place
I just hold the paddle until the tents are
put up and the food is ready ...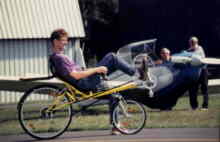 One of the pictures made for our first
recumbent bike catalogue. The bike, a WIND,
was from the first series of recumbets made
in Taiwan.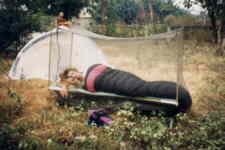 This is how I usually sleep in Africa

Sportive ! Winter 2000 in Swisserland.

Me in best mood !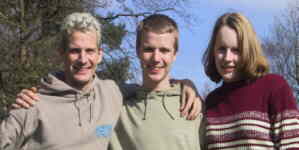 recent picture from March 2002
Me, my brother Bjoern and his girlfriend Nadine.