Africa '93 :
My first Expedition

After finishing my shool in 1991 and social-service for the
government during 1992, I decidet that I wanted to make a
long journey and see something of the world. So My friend
Matti and me bought a Truck from former GDR-Army and
equipped it for our Trans-Africa/Sahara Expedition.
We started end of 1992 and traveled for seven months.

Our route : Germany, France, Spain, Portugal, Marocco,
West-sahara, Mauritania, Senagal, Guinea, Ivory coast,
Ghana, Togo, Benin, Nigeria, Cameroun, Central-Africa,
Zaire, Uganda.

We left the Truck in Uganda and flew back home.

to be continued ....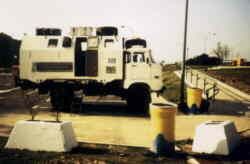 This is how we started ...
everything looks new, with motorbike
on the back, watercans, our dog Iris,
on a filling station in Spain.